Lumen
Initial Release Date

December 11, 1988

Color Palette

8/18b

Max Resolution

320x200

License Status

Shareware © Terry Dorff

Platform(s)

MS-DOS

Author(s)

Terry Dorff
Description
Lumen is a kaleidoscopic object spewer by Terry Dorff. It spews nested colored boxes.
Lumen just draws squares one inside (or outside) the other, the color it uses for each square comes from a palette with the 3D shading already built in, so the shapes it creates take on a dramatic 3D appearance.
Lumen uses the palette shown below.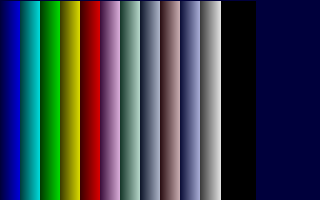 Unfortunately, just a few years after producing Lumen, on April 8, 1991, Terry was murdered by David Sumner and Reginald Tweed, though David Sumner was aquited due to Reginald Tweed's refusal to testify against him.